Today, in order to compete, your advertising needs to understand where your target market is asking questions, get your content in front of them there, in that conversation, AND STAY IN FRONT OF THEM,
retargeting across devices
retargeting across platforms
engaging with your material
giving them reasons to come back to your website
contacting you with buyer questions
buying your product / service
But if your business is successful at all, you and your team are probably already busy. How are you going to perform all of the steps necessary for an optimal marketing campaign?
Relax.  Our Market Domination Battle Plan takes care of all of that, and it's one of our specialties – one we have been refining for over 20 years. Let us help.
The Buyer's Journey is the cornerstone of your holistic Market Domination Battle Plan.
First, we identify the types of people who purchase your products or services.
Then we pinpoint the pains they are experiencing and uncover the touchstones that pivot a buyer's decision.
Finally, we map how to get in front of them from the beginning, and stay in front of them throughout the entire buying process.*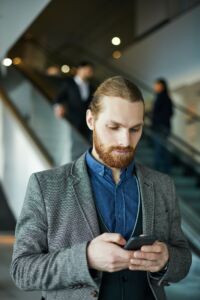 It starts when someone, we'll call him 'Joe', has a problem. Joe goes online to look for more information.  He types a keyword into Google. We call this an educational keyword. Educational terms have a high search volume, but because they have low buyer intent, they are largely ignored by the digital marketing/SEO community.
However, they are important, because it's at this moment that you want to offer Joe information. It's not a sales pitch, it's education. And along with providing him with the information he's asking about, you also want to provide him with additional information he NEEDS … information that will be CRUCIAL when it comes to selecting a solution.
Because not all solutions are created equal we want him to understand WHY  your solution is better than the competition.
And THIS … right here, right NOW, during the initial investigation, is the time when Joe is MOST OPEN to new information. (Later he will be jaded by information he got from your competitor, or worse, seduced.)
UBIQUITY IS OWNING The
ENTIRE Sales funnel Conversation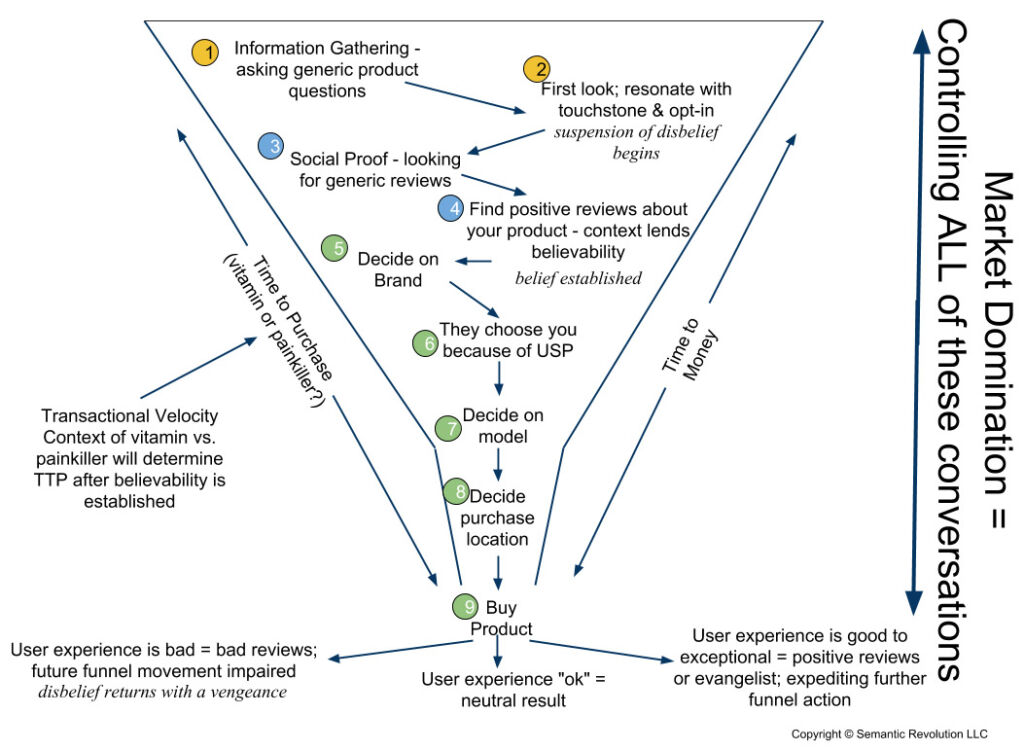 At the left you see a representation of a sales funnel. The conversation progresses from inquiry at the top to sale at the bottom.
Owning the conversation means being present on the platforms where your target market is asking THE QUESTIONS.
EXAMPLE: If your market has an ongoing discussion about the effectiveness of the types of products you sell on Quora, you NEED  to have a presence there.
YOUR Battle Plan.
Specific to Your Business.
Your Battle Plan is buyer centric, it focuses on the buyers that constitute your target market.
Your Battle Plan is content driven and keyword aware. It's crafted from a combination of educational and buyer intent keywords that are all designed to drive potential buyers into your funnel.
It integrates website design, blog content calendar, press releases, social postings, and email auto-responder series.
Ideally, in order to complete Ultimate Market Domination, it also extends to paid advertising which includes targeting and retargeting as well as site visitor identification.
Though your Battle Plan is geared toward your buyers, the implementation of the Plan must incorporate the specifics of your brand and business.
At the start of the Battle Plan process, we slow down to understand you, the business owner.
Who you are
The Why behind your company
The Passion you have to be in business
We ask questions about:
Branding and Voice
How you communicate with your tribe
What aspects of communication, if any, are out of step
This way we can craft a series of marketing campaigns, based on your Battle Plan, in a manor that is in alignment with your company values and voice.
In the same way that a floor layout for a boutique is not appropriate for Walmart, we are aware your business doesn't fit into a One-Size-Fits-All website design style or a generic marketing-funnel strategy.
Your Market Domination Battle Plan is yours, alone. And the manner in which it is implemented will be in keeping with the best practices of your business. Always.
* We also help you take advantage of the latest advancements in artificial intelligence to know WHEN a buyer is entering your market so we can get your message there, first – before your competition.